Inter-Networking Communities
About INC
INC stands for Inter-Networking Communities. In 2005, the CDU research panel awarded an infrastructure grant to further collaboration among CDU staff and with students who are working in the areas of Information and Communication Technology and Capacity Building in remote communities.
The Team
The team brings together people whose primary interests lie in information technologies, with people whose expertise lies in capacity building, and in working with remote communities. The whole group meets twice a semester, and group members work closely together on shared projects.
Computers in communities
One year after the beginning of the project, INC computers are in use in the communities of Anmatyerr (Ti-tree), Djurranalpi, Milingimbi, Yirrkala and Gapuwiyak. People currently using INC computers are Yalmay Marika, Tony Scrutton (with Craig and Nathanial), Wulumdhuna Yunupingu, and Mark Yingiya.

Other people who have bought their own computers and with whom we are working are Gothadjaka (at Gawa), Jackie (at Marpuru) and Maratja (at Galiwin'ku).

Following closely the ways those computers are taken up for optimising the sustainability of remote communities is a key focus of the research. More information here

Bryce Anbins-King has been working as the technical and field researcher, and has set up the small studio at SAIKS in Building 30.
This web site
This website has been developed to let people know how the working group is progressing and to make some of our writing available, at least in draft form.
More information
For more information, contact details are given for all participants on the PEOPLE page.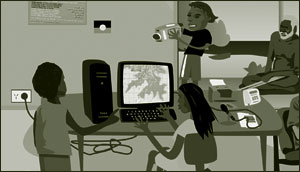 Latest Developments