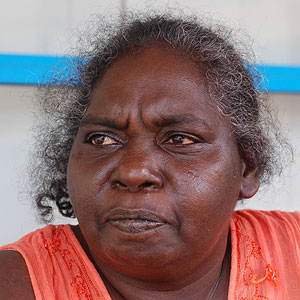 Joanne Garŋgulkpuy
Joanne Garŋgulkpuy is a Wangurri elder living at Galiwin'ku.
She occupied an Executive Teacher position in the Sheperdson College bilingual school for many years before co-founding the Yalu Marŋgithirinyaraw research centre at Galiwin'ku. She has guided and mentored numerous Health Research projects.
She is currently a board member of CAAPS (Council for Aboriginal Alcohol Program Services).
Her writing includes
'Yolŋu Balandi wataŋumirri'
'The Yolŋu child's pathway'
'Garmak Gularriwuy' based on an interview with her father Buthimaŋ
'Methodology for Yolŋu research'
'Yolŋu Longgrassers on Larrakia Land' – with Maypilama
'Bundurrpuy' elicited from Wapiriny
'Teaching from country – learning by the ancient hearths' (from the TfC writings page)
Consultancy contribution to
Gambling and gambling-related harm

Gifted and talented children