Current Projects
Members of the INC group are involved in a number of different funded and unfunded projects in four genral areas.
Remote micro business development
Small scale cultural tourism in east Arnhemland homeland centres
John is working with people from the Måpuru community where people have established small scale weaving workshops for interested people who want to visit for a week. The emerging role of email and internet in these ventures is the subject of this research. See www.arnhemweavers.com.au
Knowledge Work
Read English on the Web
is an on-line software program designed to teach basic computer literacy and English literacy skills to adult Indigenous community members in remote locations.
Learners can work through the course in their own time, at their own pace, without the need for on-line assistance.
The program is targeted at pre-Certificate in Spoken and Written English Level 1, and works through finely structured and paced lessons using a screen reader and animations, which take the learner through basic instructions.
How to Use the Computer incorporates:
Turn the computer on
Getting started
Learn about the computer
Use the mouse
Using the program
Word processor
Screen readers
How to access the Reading Activities
The Reading Activities include
Interactive Reading Activities, where the purpose is to develop and reinforce four cueing systems, semantics, syntax, grapho-phonics and contextualised activities.
Screen Reader, where any text highlighted on the screen is read by the 'screen reader'.
A personal library for each student with texts relevant to their daily life and interests.
Spelling and grammar exercises designed for adult learners using sound contemporary pedagogic theory.
Read English on the Web is a DEST funded e-learning research collaboration between CDU and BIITE and is due to be completed in mid 2008.
We are currently at the stage of collecting short, interesting texts to be used in the 'Find Something to Read' section. We will also be looking for readers and for prototype evaluation. Anyone interested in helping or finding out more about the project can contact michael.christie@cdu.edu.au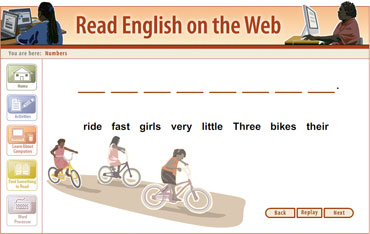 Cultural values of water in the Anmatjerre region
Naomi Rea is chief investigator for a Desert Knowledge CRC project documenting the cultural values of water in the Anmatjerre region (near Titree). Michael Christie is also involved helping conceptualise and develop pathways for engagement of Aboriginal people in negotiations over their land and water resources, using digital technologies.
The social life of the computer at Ramingining
Anthea Nicholls is a PhD student examining the ways in which computer technologies are being taken up in the routine practices of everyday life in a remote community, and ways in which we can intervene in those processes to enhance community sustainability through ICT.
Read a report by Anthea January 2007
Gender issues in communication about cultural values of water
Charles Darwin University has provided money to Naomi through a project grant to investigate gender issues which arise from discussion around pathways to engagement of traditional owners in negotiations over their own resources. Investigations of different ICT options is a key part of this research.
Science, ICT and maths education in regional and remote Australia
Michael is the Diversity Rep for the NT Hub of this national project. See http://simerrnt.cdu.edu.au/home.htm
In April 2007 SiMERR NT fundd a small workshop for senior Yolngu consultants to discuss maths and maths educationin very remote communities. See www.cdu.edu.au/macp
Technical Solutions
saspwis and the e-gypsi
There are at least two projects which have been identified by fishnet, and for which specifics are currently being determined. The first of these carries the name of saspwis ( stand alone solar powered wireless internet system) and, released from the same spirit, the e-gypsi (having trouble with tailoring an acronym at the moment) which is effectively a mobile version of saspwis. saspwis and the e-gypsi website
Fish-net - (faculty intertwinement subtly hidden)
As a way of getting together interested parties and in order for a precise theoretical model of our ideas to emerge, we are working with an informal network of technical experts at CDU which is , in turn, promoting interfaculty cooperation. Fish-net website
Adapting Yolŋu Studies database to Unicode
Currently special fonts have been generated so that Yolŋu characters can be typed on computers. With the recent development of Unicode fonts the Yolŋu letters, such as ä, ḏ, ḻ, ŋ etc are now available on every modern computer. It is now become a priority to transfer all the texts held in the Yolŋu Studies Online database and website to be readable with Unicode fonts. Because there are so many characters in a Unicode fonts and not all easily accessible, special software keyboards have been developed to assist the speedy typing of Yolŋu text.
Trialling Tablets with CDMA Hookups
Computers in remote communities are hampered by the very unusual conditions in which they work, and by the emerging and unpredictable possibilities of access to the internet. The School of IT can make some tablets available and we will investigate their possible use with CDMA cards to allow internet communication options. We hope to deploy a small number in remote communities, to explore their potential as information and communication resources
Remote micro business development
Small scale cultural tourism in east Arnhemland homeland centres
Knowledge Work
Read English on the Web
Gender issues in communication about cultural values of water
Computers in communities
The social life of the computer at Raminginin
Gender issues in communication about cultural values of water
Science, ICT and maths education in regional and remote Australia
Technical Solutions
saspwis and the e-gypsi
Fish-net - (faculty intertwinement subtly hidden)
Adapting Yolŋu Studies database to Unicode