Potential Projects
A wide range of potential research projects have been identified which all engage with Aboriginal people in remote communities who are exploring the potential of ICT in the ongoing work of producing sustainable livelihoods
Free on-line collaborative web 2 tools
We are currently working with Skype, sharepoint and i-chat in a search for appropriate collaborative software. As part of ongoing work with people on remote communities investested in using ICT to develop family-level microbusiness, we will investigate and deploy selected collaborative software. We hope during the year to make it possible for people in remote communities to conduct lecturer and tutorials for Yolngu studies students at CDU, and (with cooperation from DHACS) a tele-interpreting trial.
Geko
Generalised Ecological Knowledge Organiser
Online Dictionary
Online Dictionary
Remote Desktop Access
Remote access software is software that lets the user control or observe a computer in another location via a network connection. The software needs to be installed at both ends and a network connection needs to be established between the two (or more) computers. it is possible to do this over the internet, however satellite connections and wireless routers make this difficult. This is also known as desktop sharing or application sharing and is a good way of providing instruction remotely, and some programs also allow you to update and reconfigure computers remotely. We have been trialling several different program of this kind, including Apple Remote Desktop, VNC, and Timbuktu Pro.
Collaborative Homeland Centre Websites
Elluminate and Wimba
We have been trialling online collaborative software. These softwares try to duplicate classroom style learning activities — from lectures and presentations to small group discussions and debates via voice and text, teacher controlled software. Basically it is designed for on-line teaching where the teacher is in the institution with the technical expertise available, and the students are scattered around the place on their own computers.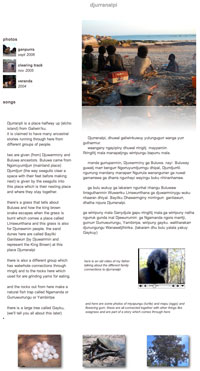 Collabrative Homeland Centre Websites