We have been working with Wulumdhuna from Djurranalpi, a homeland centre on Elcho Island.
One of our research associates, Bryce, has been working with Wulumdhuna and her family over the last 4 years providing assistance with new media technologies. This work focussed on preparing groundwork for culturally appropriate resources to be made with a vision to enliven the homeland centre school curriculum and explore ways to pass on local knowledge and relationship information.
Wulumdhuna has outlined a process which involves elders from various family groups painting the stories about country. These stories and accompanying songs and dance will be linked to places on a map. The maps will show the media and the links between them and the country. Through interacting and exploring the map based collections children will be able to make sense of themselves within it.
The original plan was to travel to some of the important places and record some information, however at this stage sufficient funding has been difficult to obtain. In April 2005, Wulumdhuna's father passed away, so this has further delayed the possibility of the trip, due to many of the stories of this country going with him and the inappropriateness of working on these stories because of his passing.
A significant portion of the funeral was recorded on video and has created a new set of resources to continue the project. Wulumdhuna's father's brother, Djalalingba and his family are now involved and are planning on contextualising the existing media resources in Wulumdhunas catalogue with his side of the stories and their connection with other country around Arnhemland.
The IKRMNA project has been involved through Bryce in researching alternative technology and digital resource creation and management options. Wulumdhuna is also informing the IKRMNA team through engagement with issues arising from using the technology.
Download a transcribed and translated pdf file of Wulumdhuna talking about her project.
Bryce's notes
At the end of the IKRMNA project in December 2006 Wulumdhuna is still at Djurranalpi exploring the use of the Apple computer supplied to her by the CDU INC project www.cdu.edu.au/centres/inc

Wulumdhuna working with her eMac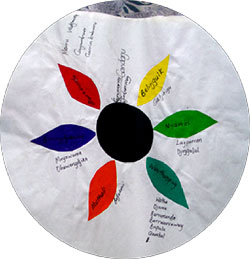 Family tree schema, part of the initial project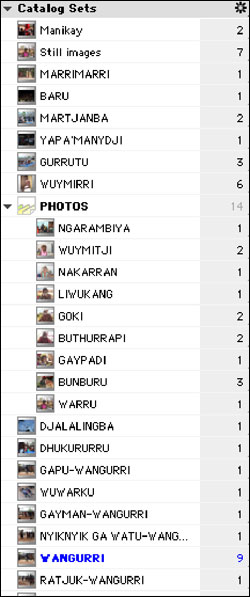 Screenshot of iView media Pro catalogue